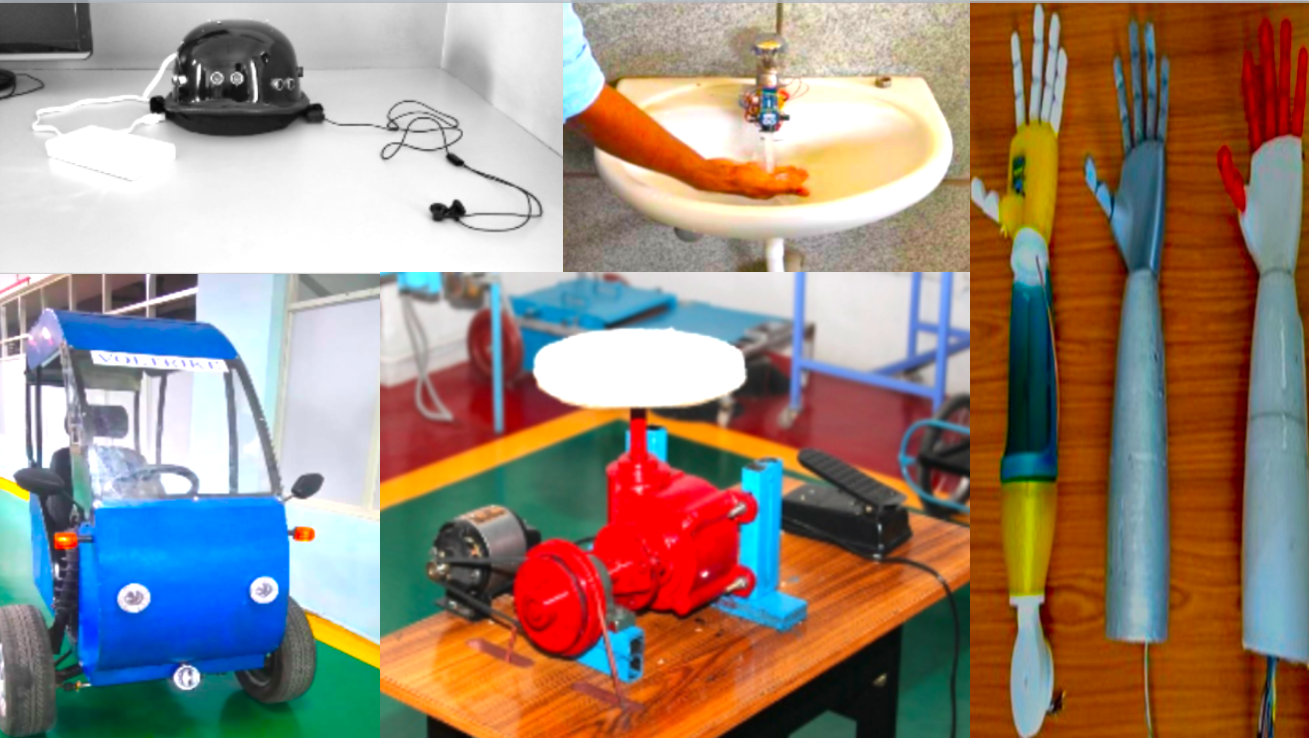 Tour of New-Gen IEDC, BNMIT
Workshops, technical talks, industrial tours widen the students learning perspective in addition to bringing out the importance of adapting to changes in technology and aid them to keep abreast with technology. New-gen IEDC conducts activities like Entrepreneurship Games and exercises, Consultancy services, Entrepreneurship education, Week long Workshops, Guest lectures, eXpress Talk with successful entrepreneurs, Seminar/conference, Panel discussion, Intra and inter institutional competitions and may more...
Patents
---
Multi Scale Flute
DoA: 12.09.2018
Mijar Aditya Shenoy, Nagapoojith B R, Someshwar S, Piyush R Golecha
Balance Mate
DoA: 06.03.2019
Brahma SP, Keerthana Vespanlani, Soumiya Rao T
Detachable Smart Faucet
DoA: 09.07.2019
Raghavendra D S, RishabhBhansaspan, Vishnu Prasad Bhat
Bio degradeable Diapers
DoA: 24.07.2019
Kishan K, 5 Lohitkumar Shetty, Hariharan R N, Karthik
Organic Dyes
DoA: 06.08.2019
Ramachandra Rao, Priyanka Prabhakar
Image Analysis - CCTV
DoA: 21.08.2019
Raksha H, Ankitha S, Namitha
Stereoscopic Images
DoA: 06.09.2019
Shashanka G, Tejas R Simha, Varun D Gurjar, Vishnuvardhan
Electric Three Wheeler Vehicle (Trike)
DoA: 17.09.2019
Aslesh Kumar, Vehicle (Trike) Raghuveer Bhat, Shwetha S, Alagar Krishna B
Vision
New-Gen IEDC at BNMIT is committed to developing successful entrepreneurs by being a resource, guidance and motivation center through Innovation & Creativity, Education & Research, and Community Engagement
Mission
The mission of New-Gen IEDC at BNMIT is to install entrepreneurial thinking in our students and to create a community of business practitioners with a spanfelong commitment to achieving social and economic progress through entrepreneurship.
Overview
New-Gen IEDC acts as an incubator to society, developing future entrepreneurs. New-Gen IEDC, BNMIT has been recognized by AICTE and is funded to develop the entrepreneurial talent among youth. It has been associated with Entrepreneurship Development Institute of India (EDII), AWAKE, FKCCI, MSME, and NEN.
Grants
---
Project 1
Purpose
New Gen IEDC
Principal Investigator
Dr. L Vijayashree , ED cell
Co- Investigator
Ms. K. Chellamma
Year
2017-22
Grants provided by
DST, Govt. of. India
Sanctioned amount
Rs. 2.87 Crores
Project 2
Purpose
Entrepreneurship Awareness Camp
Principal Investigator
Dr. L Vijayashree , ED cell
Co- Investigator
Ms. K. Chellamma
Year
2018-19
Grants provided by
DST, Govt. of. India
Sanctioned amount
Rs. 2 Lakh
Project 3
Purpose
Entrepreneurship Awareness Camp
Principal Investigator
Dr. L Vijayashree , ED cell
Co- Investigator
Ms. K. Chellamma
Year
2017-18
Grants provided by
DST, Govt. of. India
Sanctioned amount
Rs. 1 Lakh
Project 4
Purpose
To set up Entrepreneurship cell
Principal Investigator
Dr. G Nagalingappa
Year
2011
Grants provided by
AICTE
Sanctioned amount
Rs. 5 Lakh
Project 5
Purpose
Entrepreneurship Awareness Camp
Principal Investigator
Dr. L Vijayashree , ED cell
Co- Investigator
Ms. K. Chellamma
Year
2015-16
Grants provided by
DST, Govt. of. India
Sanctioned amount
Rs. 40,000